Paramour of the Woods Round 1: Queen of Smiles, Trisha Krishnan
06-20-2012, 10:22 PM
Paramour of the Woods Round 1: Queen of Smiles, Trisha Krishnan


Hi guys, I'm starting a new series mainly for South India stars like Trisha, Shreya, Nayanthara, Tammana, Ileana and maybe some other older stars too. I want write interesting stories that can take you to ecstasy. Like all the other authors on this forum I'm putting a lot of effort to create the best sexual fantasies, so I'd really

appreciate you comments, feedback and support

. Thanks guys and gals(if any :P), I hope you enjoy this.




Paramour of the Woods, Round 1: Queen of Smiles, Trisha




My latest in a long run of pointless college (Vis Com) assignments was to interview a film personality or technician. So on that hot summer day at 5 in the evening I was stuck waiting near the director's caravan, camping in a small forest where the shooting was taking place.

Someone was shouting from one of the shooting trailers for actors nearby, "Look, I told you we'd have a lot of these scenes in this movie. You agreed to act no matter how hot the scenes got...", this was the director I had come to interview. Then a lady cut him off saying, "No #%@#* way. No chance, I have an image to maintain with my fans and the public. If I go out acting like an item girl, I'll be finished", after a pause he said in Tamil, "Yes of course I understand you problems, but at least in this one scene we need you to look wet and raunchy. We've tried to shoot this scene for 3 days and every time we focus on you it looks more like a rape scene, when its supposed to be you making love. If you want I can help you get in the 'mood' all my heroines come to me, and so we..." one of the chairs seemed to fall as someone stood up, "I'll prepare for the scene my own way, next time I'll make you all hard, so stop pestering me". Whoever this girl was she was taking quite a risk because the director for that movie was quite famous to defy him was risky. Maybe she was a major heroine. "At least try this on for a while, it'll make you feel just right for this scene, trust me", he sounded quite tired now. She said something which I couldn't here, the temptation was too much, so I started to walk closer to the trailer they were in. Just I was leaning towards the door, and it opened inward. I was still trying to apologise when she put her hand on my shoulder pushed it aside and brushed past me, leaving a trail of perfume. Trisha Krishnan had just stormed out of the room and walked past me, as if I wasn't even there. She was wearing a light blue blouse and a white knee height skirt, and red high heels. Her blouse was form fitting, highlighting her curves. It was had 3 big buttons in the front, the last was open just enough to reveal her navel.Her ass seemed to sway and tease as she walked away. Damn she was hot that day.


Trisha
Her Top
The Skirt, but the one today is a little longer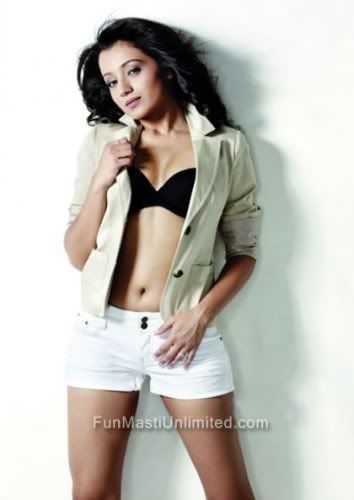 I was stuck with the director, both of us looking embarassed. Shortly after that, I was allowed to complete the interview and at 630 in the evening I was walking back to the bus stand, along a forest path. Away from the city bustle, the forests were deathly silent.So at first I thought it was my imagination, and soon though I was sure that I had heard someone.

"...What? He's such an asshole, so he tried the same thing with you too?.....No the one he gave me is bigger. Almost half a foot, and I think its imported or something, its got a remote... Hmm, yeah like the one in you showed me last time but more options. He was raping with his eyes the whole time... Yeah he's telling me to wear it under my underwear, during the shooting...... I think he wants to use it weaken me then fuck me after the shooting ....... Um, yeah this is a big project..." It was a picnic spot like place in the forest, with some stone tables and benches. Trisha was standing near the trees on one end, talking on the cellphone. She was complaining to someone about the fight she just had with the director.After another 3 minutes she ended the call.

As the clouds moved along the moon lit the entire place. She moved to one of the tables and picked up a bag. I strained to see it but her back was towards me and all I could see was her shapely hips and ass. Especially since she was bending forward her ass was pressing out her dress. In that situation with the cool breeze, the moon and the loneliness, fuck she was making me bone hard even with her clothes on. Moving among the trees to stay hidden I walked in a semi circle. By then she had taken something from the bag and was leaning on a tree. I was just 2 trees away, about 6 feet away when, she knelt over and caught the edge of her skirt. She pulled it up slowly to reveal her sexy legs. Her thighs were milky white perfectly shaped, as she drew her skirt her panties. It was a pink panty, nothing special, it showed a little black in the front, probably her bush.


I edged closer, my dick had never felt so hard, but I kept reminding myself 'This is a once in a lifetime opportunity'. But my thoughts were interrupted by a moan ('Aaaah, aah'), WTF, is she doing was all I could think. Then as I took a step closer leaned as far as I could, I saw it. A Dildo, a big fucking thick dildo. Looked like 10 inches or ('AAah') something and I couldn't see clearly in the darkness but it has slight designs on the penis head, probably for more pleasure. Seeing her dildo in one hand and her skirt held under her right armpit raised to show her bush and panties, while moaning will drive ('U-Uuuh, yeeees') anyone crazy and I had to struggle to stop myself from rushing out from the cover of the trees.





Those HOT Legs


Her legs were so well toned, so fair and looked so tasty. She held the dildo in the left hand rubbing the head against her clit, slowly, hesitantly as if she wanted to take time and enjoy it all. ('Do you like my pussy? Suck it aaaah'). As she held the dildo to her pussy with only her panty in between, moaning without any cares, I knew this was the picture to take, it was scandalous and erotic. She was slowly spreading her legs wide, the dildo was moving faster along her cunt. No I really wanted to slam my boner up her pussy, but my mind kept warning me. One word from her about rape or sexual assault would put me in jail for years.

I must mention('Ooh, uuggh, hnnh', her breathing was growing ragged) here that the first video I ever masturbated and came for was a fake video of Trisha nude in a bathroom. She was the lady I first came for so without any more delays, I took a few more shots then put my phone and bad down and leaned against a tree. My cock was pointed straight at Trisha as she was pleasuring herself, just 3 feet of shadows between us. In my mind I was on top of her fucking her missionary style, as she raised her dildo to taste it I dreamt her blowing my cock. I was about to cum on her face when she undid the top button of her dress to reveal her tits. That was it, I lost control, in just one step I reached out and grabbed her right tit and squeezed hard with her nipple between my index and middle fingers. She fucking screamed "AAaaah". My game was up. She tried to run, tripped over some grass and fell to the ground.

"No! Who're you..." she looked shocked. She was seriously out her mind then, she hadn't even noticed my dick standing hard, and she didn't know what to say. I picked up my bag and phone stepped out into the clearing, "Hi, I'm a big fan of yours and I was just talking to the director...", "Give me that phone, NOW. I'll pay you how much ever you want", she was breathing hard. I had to think fast, so I lied. "Are you crazy? I mean look at this and you're offering me money?", I said pointing at my boner. "NO, no I won't do it, no... ", "Stop acting. You're just a slut. I bet you even sleep with your driver and... ", "What do you know about me? People think all actresses are sluts. That's not true, some of us are like that, but not me. Do you know how hard it is to live as an actress? I'm also a normal girl but because of my popularity, media and fans don't give me any privacy. I can't have a relationship or even fuck one guy without fear of a scandal. Sometimes I had to sleep with directors but I had no other choice and It's been 3 months since I had proper sex. I've got my principles… " All this came as a shock to me. I always thought Trisha was a slut like every other actress. But it seemed like she wasn't all that bad, she was more like one of her on screen characters. Still this was too good a chance to give up.




HER SHOCK AND ANGER





"I already recorded everything you did the last 10 minutes on my phone. Its now on my Facebook page thanks to mobile internet. Now every minute you waste shouting at me more of my friends will see you're little game." I was lying about the video but she probably wasn't too tech savvy. To convince her I opened of the photos I had taken and showed it to her. Her eyes went wide and she looked away. "Even if you delete these photos only I can delete that video now, its your choice". She looked like she was going to cry. Thing is I hate the idea of forcing sex. It's much more fun when the girl wants you to fuck her. "Listen I said I was your fan and I meant it. Wasn't the director saying something about a sexy scene? I'll help you prepare for that. You don't have to even touch my cock if you don't want to."

As I was talking, she had leaned against the tree again. I moved to the bag she had brought and began to look through its contents. "You said you'll help me. What did you mean by that?" she asked softly. "I know how this thing works and I can guess how to use it to improve you acting in hotscenes. Which is what the director wants from you." I could see the doubt in her eyes, but she didn't have anywhere to run and she had no way of knowing that I had lied about the recording. Plus she had just been interrupted when masturbating, she was wet for sure, definite chance. "Ok let me put it in for you". She was still hesitating. "Listen I'm trying to help you here and lets be honest you liked it." She stood slowly up, looking all around the place as is looking for some way to escape. Then slowly she began to draw the skirt up her legs. By now I was hard again, my mind was dreaming up all kinds of crazy fantasies. Looking at her beautiful legs and the way submissive way she was behaving was just too good.

If I rushed things and tried to fuck her, she'd get angry and leave. "Raise your skirt", "What !?". "You're skirt will just keep getting in the way, so raise it off." She stared hard at me for what seemed an entire minute. Then she bent to catch the edge of her skirt, and began to raise it. I saw a part of her pink panties, it looked great against her fair thighs but now she stopped moving. She was embarrassed. "How many times have you properly made love so far?" Talking would help her to relax and I wanted to know how much of a slut she was, because that would decide how I could handle her. "I asked you a question. I don't have to remind you of the video I have", "7 times, once in college and the remaining during different film projects." It was probably a lie, but she wasn't faking her shyness. No wonder she looked and behaved so innocent in her all her movies. I took a step closer, and now there was less than foot between us, she tried to step back but the tree blocked her. Now was the time for risks.

I reached down and picked up the the vibrator dildo. It was red, big and thicker along the base. I weighted it in my hand, looked her in the eye. She looked so helpless and at the same time so hot. I reached out pushed the dildo's head against her panty, she froze and made a small noise, 'noo-uugh' and dropped the skirt again but that was not going to stop me. That shut her up. She gulped. "Please dont do this, anything but that, I'll pay you" I started pressing harder and along her clitoris, now she was panting softly. She started to moan again, first so softly then a louder deeper moan. I pulled it away, she was still panting. It was steady and rhythmic. Every time I put it at the base of her cunt then slowly drew it up to her clitoris. Then a little pressure on the clitoris and she almost screamed. My cock was now full on and bulging, it was so hard to wait. Now I lifted her skirt all the way up and it revealed a fine crop of curly black pubic hair held by her panty. The panty itself it was wet and so inviting. This time once again she tried to say something, I pressed the dildo on her clitoris and she moaned.

I grabbed the top of the panty and pulled it upwards and towards me. This pulled it tight on her cunt, 'Uuugh'. Then I let it go and adjusted the base so that her pussy lips were now visible. For a minute all I could do was stare at the cunt that I'd dreamt of so many times. Then in one go I pushed all 10 inches of the dildo into her pussy. It was the best moan I'd ever heard. It was loud, deep and very horny. She slid down the tree, panting and sat down on the floor. Her cunt was still very much visible since her skirt was drawn aside by her knees, which she now spread wide apart.

The last piece to this puzzle was in the bag that she had brought with her. The remote control for the dildo. It was small thing, this remote control, with 5 levels of vibration and a big pink on/off button. I switched it on, and she yelped. She looked desperately at me, then at the churning dildo, as she tried to pull it off. "The director seems to think you don't have enough sexual experience. I'll help you with that." By now the dildo was vibrating vigorously in her cunt.

I wanted her to hold my member, to suck it, to gag on it and for me to cum all over her face. But it was more important to beg me for my cock. So I sat down on one of the benches, my cock pointing straight at her, at turned my attention to her boobs. Her breasts looked delicious, not too small, just the right size. Some actresses have huge tits which sag but these stood up and perky. Her nipples under her white bra were hard and looked about an inch long. But she had forgotten all about my probing eyes as she squirmed and screamed in pleasure. "Now take your right hand and slip into your bra to fondle your left tit. Yes, just like that. First squeeze the nipple then, pull it a little and finally squeeze the boob itself, keep repeating that… Perfect. "



THIS IS HOW SHE welcomed me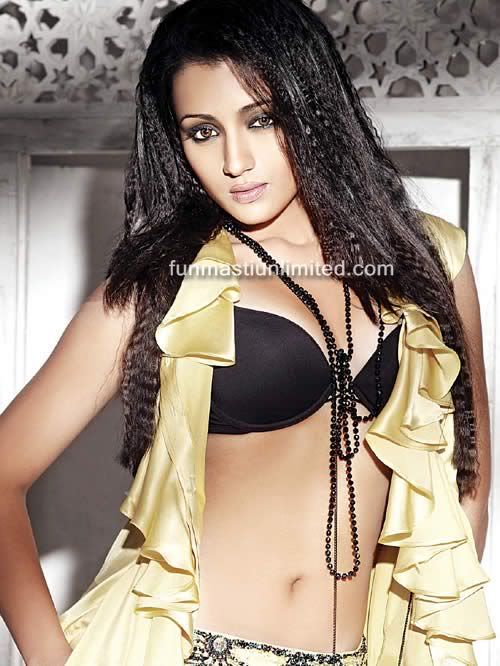 She definitely getting into the mood now. While her right hand was attacking her breast her left was slowly sliding and adjusting the vibrator in her cunt. By now her moans were seriously loud and I could clearly see her pussy juices streaming out of cunt. Here was Trisha laid out on a forest floor masturbating for me to enjoy. Time for the next stage.

I switched off the vibrator. She threw her head back, sweat glistening down her slender neck and onto her bra. She was panting like a marathon runner, "Wha…" she tried to say. "You look like you're having fun. I think you're forgetting that I'm supposed to be 'helping' you here but you seem to be wet enough now. I think I'll take that dildo and go home. I'm sure you're wet enough to do any sexy scene that director wants you to do" Her face was hard to read. It was as if nothing I said had reached her. So I got up took a step to her and reached out for her dildo, only she caught my hand. I looked up to see what she was going to say, but she wasn't even looking at my face any more. Her eyes were on my cock. Her staring made me even harder than I already was. I wanted to say something but decided to wait. I stepped closer to her, and suddenly she caught my pants and began to undo my pants. "Ok, why don't you take mine in your hand and stroke it." She had definitely fallen for the dildo, much of her earlier hesitancy was gone. She took my cock in her right hand. Her fingers looked small around it as she wrapped them around it. She started stroking it from the head to the base, pulling back the foreskin each time. My cock was starting to get a bit wet as a few drops of precum oozed out. This made her stroke even faster, at this rate I would cum too soon.




JUST LIKE ICECREAM BUT WITH MY COCK, Instead


To Be Continued: HOT action to CUM
What do you think guys ;D
06-21-2012, 01:06 AM
RE: Paramour of the Woods Round 1: Queen of Smiles, Trisha Krishnan
That's very hot, we want more ♡
06-21-2012, 01:15 PM
(This post was last modified: 06-21-2012 03:39 PM by zealist.)
RE: Paramour of the Woods Round 1: Queen of Smiles, Trisha Krishnan
@Sex-Stories,
Dude I'm glad you like it. To the other users, come on guys I'm waiting for your comments.




Here is the next update, Readers ENjoy



"Stop! Stop, enough of that. Now take it in your mouth. Blow my cock hard. Especially on the top of it. Kiss it first." I wasn't sure whether she'd agree so I turned on the vibrator at its lowest level. She was still a bit shy, but slowly she moved her fucking hot lips to my cock's head. Damn I would have come right away, after all the waiting. She then tried to take my cock with her mouth only half open. It didn't fit in. It was more like she was kissing my cock's head. At 7.5" my cock wasn't as long as the dildo but it was thicker. So she had to open her mouth wide open, to let me in. I pushed all the way in and rested my balls on her chin. The look on her face was priceless. First she was trying to say something, and then She accepted me and my cock whole heartedly.

She wasn't very good at blowjobs because very quickly she began to gag and she wasn't moving her head back and forth fast enough. So I grabbed her hair, not to roughly and started fucking her mouth. First she struggling to breathe. Then slowly She was starting to swirl her tongue around my cock. It felt it was going to explode. Then as I about cum, I notice her juicy tits rolling rhythmically as I fucked her face. I had more to do before the first climax. I pulled my cock out of her mouth. It left a trail of her saliva that was dripping of my cock and out of her mouth. She was sitting there on the ground, saliva dripping out of her mouth on to her tits, right hand playing with the dildo, left hand on her right nipple, eyes on my cock. I could see small streams of something liquid on the inside of her thighs. And boy was she sweating, it was hot even for summer day but when her sweat was pouring down her face from her forehead onto that cute nose and mixing with saliva before fell on her tits. HOT. I looked around the clearing for some inspiration and saw the hard stone benches and tables.

I sat down on one of the benches and spread my legs wide open. My cock was throbbing like an engine, straight in the middle. I was sure I wouldn't have to remind her of the video, just dildo would do. I signaled her towards my cock, a simple wave. She crawled over on all fours, tits bouncing. She was already on my cock, her hands caressing it. I reached out and pulled her bra down a bit to reveal those lush, sweet tits. She undid her bra and gave it to me. It smelled of TRISHA, her sweat and body odours were like a sex drug making me wild. Without her bra and only her shirt on her boobs were fully visible and being pressed together and held up by the shirt for BIG cleavage. "Put it between your breasts. Fuck them with my member." I leaned back and watched as she put cock between her tits and pushed them together. Her tits were so soft, their nipples each like knife points, hard and long. Soon she was moving at full speed making my dick fuck her tits. I didn't want to cum yet so Slave training time.




TRISHA WILL SOON BE A TRUE SLUT
Photo Credits: AkkiTheKing
"Now be a good girl and get on to this table." She didn't any waste time and rushed to sit on the stone table I pointed at. Her legs were on either side of the tree as she straddled it like riding a bike. "Lean slightly forward, while bending your back in an arc ... Yes, good. Put your feet on the ground and raise your hips as high you can... Perfect. Bring your hips down so that the end of the dildo hits the table. Do it as fast as you can. It's a very important training."
Personally I needed to let my dick cool off and I loved to see women riding cock in the cowgirl position. She started off slowly, moaning softly, as she dragged the dildo along the surface for a few times. Then she began to slam her pussy and the dildo inside it harder and harder into the hard stone surface. Each time she hit the table her moans steadily became screams of pleasure. The hard stone and its rough edges was making her skin red but she was so fucking horny she didn't even notice it. She was so horny that every time she rose up and slammed down into the stone her hair swirled as if she was dancing and sweat flew from her face as if she was running a race.
I threw her bra back at her. She almost fell of the tree trying to catch it. "Wear it, then lay down on the table and face upward." She looked unhappy, the vibrator and cowgirl practice must have brought her close to climax. "Don't worry, I'll make you cum, soon enough", I assured her. Bra back on, she laid down obediently. I walked around the table inspecting the beauty in front of me. Her skin was milky white and seemed to shine in the moonlight. By now the air was smelling of cum, its hard to describe but it's a sort of sweetish smell. The black dildo was a stark contrast to her glowing skin and bright pink pussy lips. Right in the middle of it all was that navel. Something about it, placed between those juicy tits and that fine bush, on that well toned torso. I couldn't take my eyes off it. As I was finishing my inspection of her, she reached with her left hand and tugged at my dick. I moved her body closer to the end of the table until her head was almost falling off it. Then I moved up to stand at with my balls, above her face.
I had to bend my knees a bit, as I put my dick to rest on her chest. My balls were dangling just above her face. I pulled her bra up and slipped my cock in between. When I let the bra go, it snapped back into place pressing my dick to her chest and her tits to my dick. The tight pressure between the bra and boobs was heavenly. I began sliding my dick back and forth. It was like fucking her tits doggie style. In front of me her body was twisting and panting. I bent forward. Her navel was within reach. First I kissed it for a full five seconds. Then I snuck my tongue into it and started licking it. It tasted like salt as I drank up the sweat on her perfect NAVEL. This was really getting to her as her moans got louder. As I began to pick up the pace of tit fucking, I felt something odd on my balls. I looked down to see her licking them like ice cream. Soon she had my balls in her mouth as I fucked her tits. As thanks I reached out and pushed the dildo in even deeper. She yelped and almost bit my balls. It was strange combination of a little pain, her sticky tongue and pleasure. It made the veins in my cock bulge even more.
Now I knew she was horny, I could be sure she wouldn't try to run away. I drew back from her tits and lifted her to her feet. I lay down on the table right beside her facing the sky. My pole was straight up like a sign post. She got up stood beside me looking from my face to my cock. I reached out and pulled hard at her skirt. It held for a minute before tearing and falling off. Before me was the HEART Throb of the South, wearing only a half open shirt, a panty and a bra that was showing her nipples. "Come on now we both know you want it. Put your ass on my face and take my cock in your mouth." She looked around, then swung her leg over me and set that booty on my face, right on the chin. Most Indian women are average when it comes to tits but huge hips and FAT asses are very common. Trisha was no exception. The ass in front of me was wide, full and so soft. Trisha was bent over sucking my cock, as I pulled the panty down to reveal her holes.
DAT HAWT ASS
Photo Credits: mohanraj77
Regular sex up the pussy is common. I was determined to make Trisha my slave. That would need something a little stronger. Blow jobs, tit fucking and 69 were all steps in the right direction. But it was time for drastic measures. She was running her hand along my shaft, while she sucked on my dick's head. With only the head in her mouth she could move her tongue freely. She began slowly but was steadily raising the speed. Now I could hear here sucking my cock like 'Slurp, Sluuuuurp'. Her slender back was arching backwards in pleasure, glistening with sweat from her efforts. I reached forward and squeezed her nipples. She yelped, turned her head to see me saliva dripping from the corner of her mouth. Then she caught my balls and started to squeeze them gently.
Her soft tits were now in my hands, as I pulled on her nipples. She was playing with my balls but it was time to show her who was Boss. I leaned forward and sniffed her pussy then moved up to look at her asshole. It was very small about the size of my little finger, It didn't look anyone had fucked there before. I put my index and middle fingers together and stuck them straight up her ass hole. Most women can't take a single finger up their ass when they're not expecting it, that too when it's the first time. She seemed to jump and scream as I buried my fingers into her ass. "No, what are you doing? Are you mad?", she yelled. I threw my left hand around her waist to keep her from escaping.

ANAL, Oil, Group Orgy, Humiliation and More HOT Sex to come. But before that

guys gimme more replies

on what you think of the story.

I'm working on a big project at work so the next update may take some more time.
[/font][/size]
06-21-2012, 07:55 PM
RE: Paramour of the Woods Round 1: Queen of Smiles, Trisha Krishnan
hello, photobucket, dont allow nude images they will delete them, please post them somewhere else and replace image urls.

Thanks
06-22-2012, 11:17 PM
RE: Paramour of the Woods Round 1: Queen of Smiles, Trisha Krishnan

The next update is here its quite a long one and the hottest so far with a contribution by silamboo(Thanks man)


She was bucking like a mad horse. Each time she would use all her strength to try to sort jump away and each time I managed to pull her back right on to my fingers. She ended riding my fingers like a cock. It was like she had gone mad. "Ok, ok calm down" and I pulled my fingers back. It was only the beginning of a long night no need to hurry. When she finally settled down she was shivering. Her mad attempts to escape had covered in sweat and it was literally dropping off her. I saw 2 big drops of sweat on her left ass cheek just about to fall so I rushed with my tongue to clean it off. A long lick along that ass "Huungh", her back was bending back. Now it was time to show her true pleasure. I moved a back a bit so her pussy was just 4 cms from my face. I pulled the dildo out and dropped it to the floor. Even in the darkness I could clearly see her pussy lips. They were bright pink and thickly swollen. I pushed my face forward and sniffed it loudly, "Are you seriously smelling that, Aiyoo", she sounded so meek, because she was enjoying it but she was embarrassed.

I couldn't resist the wonderful dish anymore. So I stuck my tongue out to its maximum reach and plunged it into her wet sloppy cunt. It's a fact that that a cunt is more sensitive just around the lips. So I started poking my tongue at her pussy's edges. Every time I touched her, "UUUUnnnh". She would moan loudly and then fall silent. Obviously she need more. So I started searching for her clitoris. Once my tongue was on it, I bit it like a crocodile. Girls are most sensitive at their clitoris so when I bit she squirted cum all over my face. For a second it was like someone had poured water from a bucket with a pump. She gushed cum for another 5 seconds before it reduced to a trickle. Fuck it tasted sweet. Forget Coke, Fanta or Coffee or anything else, I could have laid there sucking her juices for an hour. I was stunned and let my head rest on the table as she continued to trickle down her ass mixing with her sweat and falling onto my face. I was still trying to lick it all up when. When my dick was pulled. It was so sudden I tried to get up and ended up with my nose stuck in her cunt. "Aaagh" she moaned throwing her head back, But the grip on my cock didn't loosen. Now she started again her stroking my dick with all her strength. She had her left hand fingering her boobs while she played with my cock. It's a good thing that she was showing her slutty side but, The bitch had gone too far.


I caught her ass cheeks with both hands and pushed as hard as I could. She lost balance and fell forward straight to the landing on her left shoulder and face. As she hit the ground she screamed for help but there was not one there. She was in the perfect doggy pose but I wanted more. So I caught her half removed panties and pulled them down her legs. She tried to stop by catching it but I was stronger. Then I caught her shirt by the collar put my foot on her back and pulled the shirt off. I made it quite rough but I didn't hurt her. I just wanted her to learn that I was in control. I took a step back to admire her naked in that doggy pose, looking very angry and completely naked. As she was trying to get up on one hand I grabbed her hand and lifted her up. With my other hand I picked up her blouse that had fallen onto one of the nearby benches. "This is rape. I'll have you in jail. If you let me go now…" I had now intentions of listening to her, as I dragged her to the nearest tree. Without any warning I pushed her at the tree. Frightened she raised her hand to protect herself. That was enough time for me. By the time she had hit the tree and opened her eyes, I had pulled her hands around the tree to make it as she was hugging it. Then I tied it her hands together with her nylon bra.
She was now in position her tits were pressing against the hard tree, and no matter how hard she tried she couldn't free her hands. As she kept struggling I walked around the tree to see her back. It was perfect except for one question. Which hole? She obviously had no anal experience and I also had seen anal sex on the internet since my girlfriend only let me fuck her pussy. But there was one missing thing in this picture. So I went back to the handbag she had brought. You know how girls keep tonnes of stuff in their bags, especially cosmetics and beauty products. So I began to search it the darkness, she was still shouting something about forgiving me. Yeah right. Then I found it. A bottle specially made for tanning but who cares it would do just as well.

I walked back to her and started pouring it on her ass. First she went silent, then "What're you doing? Don't piss on me….", "Don't worry I'm not that bad. This is just the tanning oil from your handbag." She didn't understand why I needed tanning oil so she shut up. I poured it all over her back and onto my cock as well. Then in put some in my hands and started to knead her breasts like dough. Whatever she had been blabbering about rape was forgotten in a minute, because she was moaning again. I poured some more oil onto my fingers and started playing with her asshole. "Don't… Don't touch that, plea…" I knew she would act all innocent so to shout her up I picked up the dildo and shoved it back into her cunt as it vibrated. That was enough to keep her busy while I did the preparations.



TRISHA OILED AND READY TO LOSE HER ANAL VIRGINITY






Photo Credits: silamboo



I felt like an astronaut. This was my first anal experience and I was taking Trisha's anal virginity as well. Awesome. Normally on the internet, Anal sex is slow. Very slow entry into the asshole and then slow short thrusts. But I was already madly hard wanting to cum for so long and this was supposed to be a punishment. So I brought my dick up to her asshole, just 2 cms gap. Then slowly I moved back and forth, something like a snooker player I was picking my mark. So now I touched the hole with my engorged throbbing cock. She seemed to know it something different, because her moans became softer, as if she was scared. I caught her hips with both hands, and I must say they were lush, just the right amount of fat. Then moved my hips as far as I could, then took aim and thrust forward. I did my best to accelerate and hit her hole as hard as possible.

'PHAT' 'AAAAAAAAAAaarrrrrrrrrrrrrgggggggggghhhhhhh, aaargh'[/B] It was probably beginners luck and that oil that was dripping down her ass and her legs, because not only did I hit the target, but my cock disappeared. All 7.6 inches of it was buried in the smelly depths of her ass. Her scream almost felt like someone being murder. For a second I felt sorry, even scared that I had hurt her. But then my cock took over. I drew back and plunged again. Like a piston in an engine, back and forth again and again. I didn't know I could fuck that fast, but I was out of control. There were no more moans, only screams, each louder than the last and sometimes 'STOP' and 'Please'. I getting into a rhythm when I noticed the vibrator remote fallen beside her feet. Without thinking I stopped for a second to pick it up and continued the pounding. Something told me to put the vibrator to MAX. That did the trick, she became a slut. For the first time she said, "Yes, FUCK ME (I thrust my cock in deeper). YEEAAAAAAH, LIKE THAT, LIKE….UUUNNNNNG, HARDER, HARDER, AAARRRG" spit was flying from her mouth as she screamed like a whore, as she grunted like a man lifting a 100 kilograms. This was what I wanted to turn her into a sex crazy slut, so that even after that night she would always be my bitch.

"BASTARD, FUCK, DON'T FORGET MY TITS…" She was totally out of control now, not that I was much better. From behind her I could see her entire back and specially that FAT ass, where the oil was shining and covered in so many beads of sweat as she screamed. Every time I thrust in all the way her ass would shake and ripples would pass through her ass like the surface of a pond. She glistening like white gold in the moonlight covered in sweat, cum and oil. By now I had settled into a proper system. First thrust all the way in, wait for a second while I could that hard and fast vibration form the dildo in her cunt. That vibration was making my cock's head tingle. AWE-FUCKING-SOME. But the best part was the muscles in her ass squeezing my cock. In normal sex, the cunt has plently of space for most normal cocks, but the asshole wasn't designed to take a cock, so the pressure is crazy. It like taking your dick in you hand and trying to squeeze it very, very hard, like an aggressive hand shake. But in her ass it wasn't hurting me, because it was so, so soft.

The little sense I had was making me think. To cum in ass or to cum in cunt…. While thinking I had stopped, with my dick half way in, to take a breath but that was too much waiting for her. Trisha began to move her ass and hips back and forth, swaying left and right. She was actually fucking herself using my cock. Finally she was asking for my cock but I had to control her. The way she swayed her hips and shook her ass was pure torture, and because it was teasing my cock beyond the point of control . "Bitch I decide when I fucked you." I slapped her right ass cheek as hard as I could. In a second it was bright red and my hand was slightly numb from the force. But amazingly she didn't even react no complaints, instead she fucked even harder. This was too much. I started ramming her full speed without any thoughts. Slap after slap my cock could feel the vibrator and the force from my slaps. Finally I felt it deep within my balls and cock, the just before cumming. I pulled all the way back and outer her ass. Then plunged into her full length and slapped her with both hands. Their started again and again I came into her ass. She saying something but I could only the blood rushing, my cock throbbing and the amazing squeezing by her asshole. That was it I thought it was over. Slowly I pulled out of her ass and watched as my cum trickled slowly out her ass like milk.

[/size]
06-23-2012, 08:46 PM
RE: Paramour of the Woods Round 1: Queen of Smiles, Trisha Krishnan
Some of you are asking for faster sex scenes so I'm going to cut down some of the less important actions a bit.


It is your comments and support that help and drive me to continue this story. Thanks again.



For a couple of minutes all I could do was think of what a crazy day it had been. "... HEY, HELLO, FUCKER WHAT HAPPENED. " Then as if waking up I realised Trisha was still tied to the tree. "PATTI I didn't cum. Make me CUM NOW. " She was still screaming. I looked around found the remote and turned the dildo off. I knew that just slapping her wasn't enough and its more effective to control the mind rather than the body. "I can make you cum. I can destroy your career with a single video. From now on I have full control of your life, and so you will speak to me respectfully, because you are my bitch." In that forest all I could hear was a few insects and her breathing. I couldn't see her face because she was still tied to the tree, when she said, "Please. Make me cum. Its been so long. When you bit me earlier i thought i was going to die from pleasure. All the idiots who i had to sleep with before just put it in my ass came on my stomach and walked away. Only Shreya cared for my pleasure but today was the sex I've ever had…"
As she continued to try to convince me I was a little suspicious, hadn't she accepted my control too easily? Anyway it was useless to keep her tied there so I released her from the tied bra. The very next second she hugged me. I couldn't believe it and soon I was hugging her by pressing her naked body hard as possible to my body. In that moment I could feel her hard nipples stabbing my chest as my right hand slid down her back to squeeze her ass. Then I felt a little discomfort, something was pushing between us. It was my cock, when she hugged me it had ended up right on her navel so I had been fucking her navel. Also she had my ball in her hand. I really had to do it.



TRISHA BEGGING ME WITH HER ANGEL SMILE

image credits:ramsese


Without waiting to tell her I pushed her so she leaned on the tree facing me. I didn't stop to relish the sight of beauty before me. The hot smooth skin gleaming in oil, stretched tight across her navel aI lifted her a bit then pushed my cock up her cunt. Finally I was home. Phat, Phat, Phat, Phat… her pussy was so wet it made all sort of sounds but I wasn't looking at that. In front on me her fucking hard nipples were dancing. As I pulled out her tits fell throwing drops of sweat in every direction. As I slammed in they would raise again just in front of my face teasing me to bite them. Then I looked up to she her mouth wide open in joy as she half screamed her ecstasy. I met her tongue with mine and she responded. Like two snakes we fought each other pushing as hard we could then I moved forward and my lips touched those smiling lips. Whoa it was too much as I thrust my cock up her cunt she fought back shaking her hips and stabbing with her tongue. When after nearly 2 minutes of french kissing I drew my head back to breathe. She grabbed my head and pulled towards her right boob. As I slammed into that lovely cushion I caught her nipple in my mouth and began to bite. A little biting then a little licking. She was going wild. "YEAH, HUAH, YES, I'M THERE" Then she came. I actually though she had pissed on my because of the sheer load of cum. Even my pubic hair and most of my legs were dripping with her cum as I she slipped down the tree to sit on the forest floor.

It was all good. Except she had cum before I had and now my cock was throbbing right in front of her face. "C-c-can we do it on the table like before.. I'll make you cum…… I like your tongue…". This was going faster than I expected. Without delay I went and laid on the table waiting for her to complete the 69 pose. She took a minute but soon her ass was blocking out the moon above me as she stroked my cock, just like her first orgasm. This was perfect except for soft, beep, beep… beep noises. It took a few minutes but I realised that was my phone. I didn't waste time catching her right hand and twisting it backwards. She had been deleting the photos I had taken of her. She tried to run but I held her by her right hand. "Stupid bitch, here take my phone and break it if you want. The video is already online, only I can remove it from my account. I though you were smart."

As a fan I didn't want to hurt Trisha too much but now she had crossed the line. I got up threw her shirt at her, "Wear only that and follow me." After dressing I walked along the forest in the general direction towards the main road. After 15 minutes, I could the lights of the shops outside the forest. "Wait here and I wont say it again, DO NOT forget the video." By now she was looking really scared, because didn't know what I was planning and that was scary. I crossed the road and walked to a nearby liquor/wine shop (I'm keeping this part very short to keep the story interesting). It was only 754pm so only two guys were drinking, and two kids was serving as waiter. I joined them and got them drunk while drinking very little. So by 830 the two of them, let's call them A and B, could hardly walk. I called one of the waiters and told him to follow us. Then I told A and B there was a 'Super Figure' waiting for them and soon we were at Trisha's waiting place again.



TAKING HER FROM BEHIND
image credits:XfakerX



"WHAT ARE YOU DOING? They'll see my face and tell others." Trisha looked like she was pissing herself with fear. "You should have worried about that before you messed with me. Anyway its dark they cant see very clearly and who'll believe two drunk losers and one kid. Ok on your knees…. Quickly, yes kneel." She still looked shocked as kneeled. The guys were standing in front of her, barely conscious While kid was just standing a few steps behind watching. "What are you waiting for, take off their lungi and start blowing their cocks. NOW", this was very slow, she took the edge of B's lungi and tugged till it fell off, then A's lungi followed. Meanwhile I had my phone on video recording mode with its small flash highlighting video. "Go on then suck like a slut". She started slowly with A's cock it was initially flaccid/shrunk but within seconds of her hands touching it was full on hard and shaking. For B she took his flaccid cock directly in her mouth and there it grew to full size as she sucked it like a hungry whore. After getting some good closeup shots and moans I turned off the camera and walked to her back. My cock was reminding me that she hadn't let me cum yet. I called the boy forward, who followed my every command because I had promised him Rs. 500. The two of us went to her back. I made the boy lay down between her legs and pulled of his shorts. Under it was his young virgin cock of 4-4.5 inches, not bad for his age. Trisha was so the two cocks fucking her face, pouring with sweat and struggling for breath, she hadn't noticed. So I went on my knees grabbed her hips and pushed down and forward. Until then she had been holding to 2 cocks very close to her mouth, taking one cock at a time in her mouth while handjobing the other. My sudden push forced her forward and both the cocks into her mouth, just as the kid's cock pushed into her cunt. Before she could move back to escape, my cock was back in her ass. "Uurrrrggh, ugghh." She was trying to say something but the 2 cocks in her mouth weren't exactly small. So her ass spoke for her, making slurrrping noises as I banged her. At first she tried to escape and I had to pin her with my hands. Then slowly her hips were swaying up and down as her instincts took over. For my cock this was awesome first she would slam down to fuck the kid, pulling my cock along with her ass. Then I'd pull back and slam her shit hole in a quick thrust, her hips would rise again. In terms of music, the oil on her was helping her make symphonies worthy of ARR. Inside her tight ass I could fell the little dick as well probing her depths. She was now fucking a kid half her age while 3 other men filled her holes. Shameless Slut.

To be Continued
---
All content copyright © 2005 - 2013
celebritysexstories.net
™